STEM OPT Extension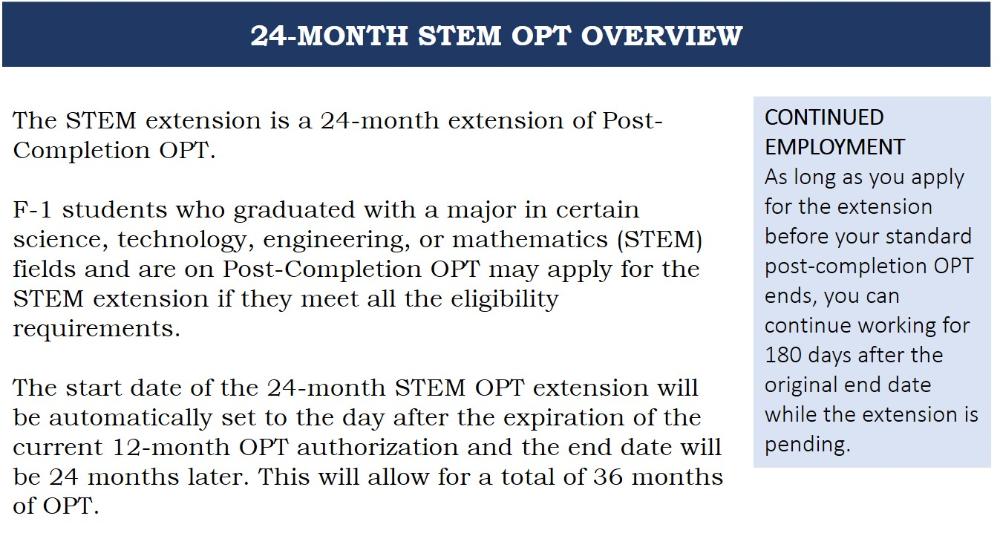 STEM OPT Process Timeline
STEM OPT Reporting
In order to maintain their legal F-1 status, a STEM OPT student must regularly check in with their DSO throughout the duration of the extension to validate Student and Exchange Visitor Information System (SEVIS) information and report changes made to the student's training plan.

Please Note: STEM OPT students MUST report any change, including any loss of employment, within 10 days of the change.

The standard processing time for ISS is 10 business days. Keep in mind that business days refer to days that the office is open (this excludes Saturdays, Sundays, and holidays). Request can never be expedited and are always processed in the order received. During high volume periods, processing time may be longer.

Before submitting a request: OPT Service Fee must be paid

A fee must be paid prior to making any request to ISS. If your Post OPT fee is still valid (active) then you are not required to make another payment. If your receipt of payment is expired (more than 12 months) you are required to submit another payment for the next 12 months. Remember your fee of $500.00 will be valid for one year after payment has been received and posted to your account. ►Click to make Payment
After you receive your payment confirmation, please upload a copy of the confirmation ► here.
► Validation - Every six months a student must confirm that their record in SEVIS accurately reflects their current circumstance. SEVP Portal users will receive a reminder via email 30 days before any validation report is due. You must verify your personal and Employer information 1st by logging into your SEVP account, before validating thru this link. This reporting is

MANDATORY

, even if no changes have been made.

You can update your personal information via the SEVP portal if there are changes. If you have changes to your Employment record, submit a request using the links below. After receiving confirmation of the changes/updates by the DSO, you can then submit a validation. Validating a record with false information is considered a violation of your status.
| | |
| --- | --- |
| Time Period | What is required? |
| | STEM Validation |
| | STEM Validation and Annual Evaluation |
| | STEM Validation |
| | STEM Validation and Final Evaluation |
► Changes to an Existing Form I-983 - Use this link to report Material changes from the original Form I-983, which must importantly change to the following sections:
Section 3: Employer Information

Section 5: Training Plan for STEM OPT including Employer Site Information

Unemployment (Final Evaluation on Student Progress is required)
► Changing Employers -Use this link to report a new Employer. When a STEM OPT student changes employers, the new employer must be enrolled in E-Verify before the student begins to work for pay. The student must submit a new Form I-983 and a Final Evaluation on Student Progress from the previous employer.


NOTE:

In cases where the period of time between employers is longer than 10 days, the student must first report the loss of employment to the DSO and later submit a new Form I-983.
NOTE: Click for assistance with Form I983 - Form I-983 Training Plan Instructions.pdf


► Cap-Gap - Use this link to request a Cap-Gap I-20
Current regulations allow certain students with a pending or approved cap-subject H-1B petition to remain in F-1 status during the cap-gap period. Cap-subject H-1B petitions that are timely filed for an eligible F-1 student that requests a change of status to H-1B on Oct. 1 qualify for a cap-gap extension. Students are strongly encouraged to stay in close communication with their petitioning employer during the cap-gap extension period for status updates on the H-1B petition processing.
Please note: F-1 students who have entered the 60-day grace period are not authorized to work. If an H 1B cap-subject petition is properly filed for a student who has entered the 60-day grace period, the student will receive the automatic extension of his or her F-1 status, but will not be authorized to work since the student was not authorized to work at the time H-1B petition was filed.

► Transfer Out Request - Use this link to request a transfer out of FDU to another institution.

► Travel Signature - use this link to request a travel signature. The signature on page 2 of the OPT I-20 is valid for 6 months from when it was signed. If your re-entry date is within 6 months from the last signature, you will be eligible to re-enter on that I-20. However, if you re-enter after the 6-month time frame, a new travel signature is required.

Additional STEM OPT 24 Month Extension Source