Social Security Card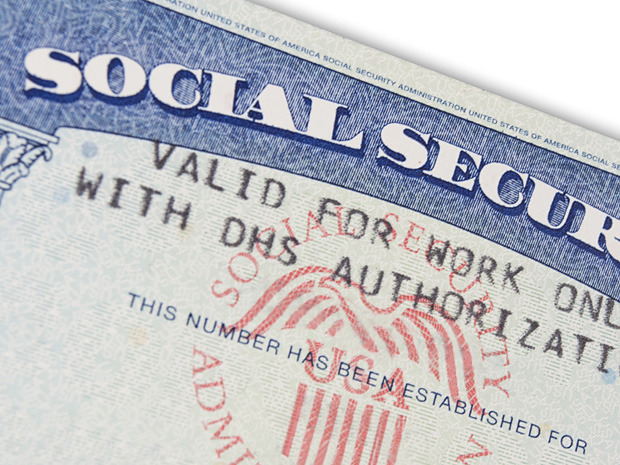 A Social Security Number (SSN) is a unique identification number that allows the United States government to monitor your taxable wages earned as an employee in the U.S. As an international student or scholar, you only qualify for a Social Security Card if you have the authorization to work in the U.S.
The SSN does not give you U.S. employment authorization. It simply provides an identifying number for you to be paid for a U.S. job and for your employer to deduct the appropriate taxes on behalf of the U.S. Internal Revenue Service (IRS).
A Social Security Number, which appears on the Social Security Card, is not required for you to open a U.S. bank account, buy a cell phone, or rent an apartment. The SSN is requested for these and many other financial transactions because it is commonly used to check U.S. financial credit history, but you will only be eligible for an SSN if you have the authorization to work in the U.S.
Eligibility
In order to qualify for an SSN, you must be physically present in the U.S. in an immigration classification that permits employment.
F-1 Students
You are eligible to apply for an SSN if you have any of the following types of U.S. work authorizations:
An on-campus job or have already begun working at an on-campus job
Curricular Practical Training (CPT) authorization
Optional Practical Training (OPT) authorization, and received your Employment Authorization Document (EAD); and the validity period of your EAD has begun
J-1 Students
You are eligible to apply for an SSN in either of these cases:
If you have been authorized by the ISS to begin an on-campus job
If you have been granted Academic Training (AT) employment authorization for a job off-campus
Applying for a Social Security Card
When possible, you should obtain your Social Security Card before you begin any work in the U.S. If you begin employment without a Social Security Number, you must then inform your employer as soon as you receive your Social Security Number so that they can modify your withholdings for payroll purposes.
Documents for SSN Application
You must present all of the following documentation:
A completed Application for a Social Security Card. The application form is available online, or at the Social Security Administration office.
Unexpired foreign passport with U.S. visa stamped inside
Original Form I-94 Departure card, if applicable, or printout of I-94 from your most recent entry
Additional documents depending on your immigration status to show U.S. employment authorization.
Alternately, if your intended employment in the U.S. requires filing a Form I-765 Application for Employment Authorization (F-1 OPT, J-2, etc.), you have the option to concurrently file your Social Security Application with your employment authorization request.
Receiving Your Social Security Card and Number
The Social Security Administration may need some time to verify your current immigration status before they can issue a Social Security Card. In most cases, a Social Security Card should be mailed to the address you listed on your application form within 14 business days. If you do not receive a Social Security Card within 30–60 days, you should contact the Social Security Administration via telephone at 800-772-1213 or visit the
Social Security Administration website
to ask about the status of your pending application.
The notation on the Social Security Card should read "Valid for Employment Only with DHS Authorization". This clarifies to your employer that the Social Security Card itself does not give you work permission in the U.S. and that you will need to obtain separate work permission in order to start working. To find out more about employment authorization, please contact a staff member at ISS or visit the Employment and Internships page on our website.